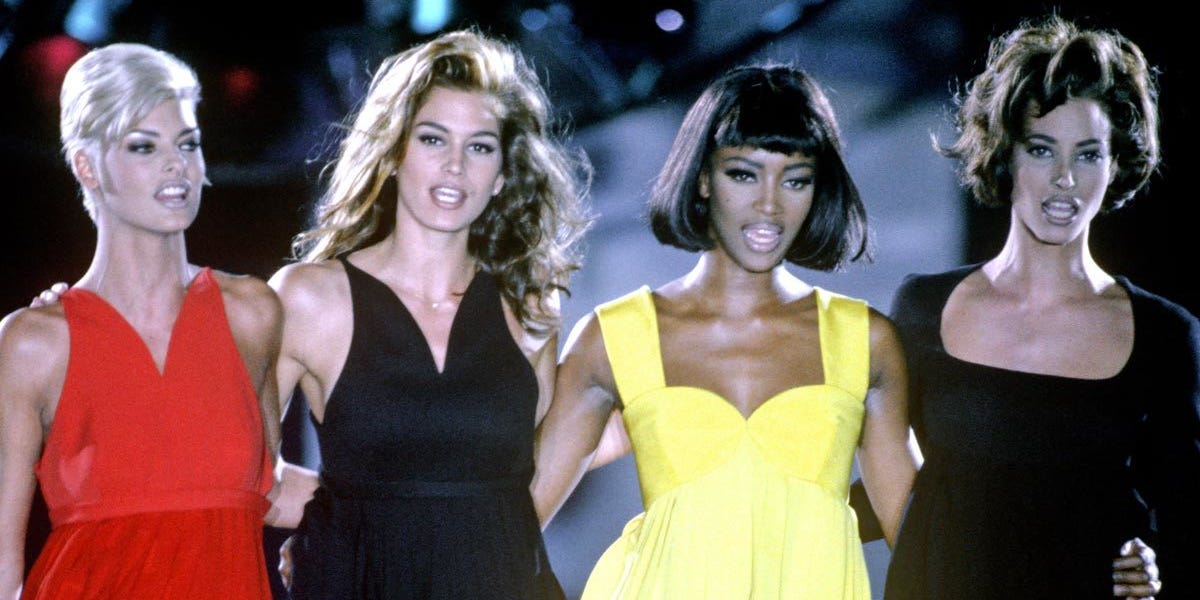 '90s models remember starring in George Michael's Freedom! Musical clip
George Michael's music video for Freedom! is considered an iconic model moment of the 1990s. Now, three decades later, the catwalk stars who made it so memorable have reflected on the video's lasting impact.
Cindy Crawford, Naomi Campbell, Christy Turlington, Linda Evangelista and Tatjana Patitz discussed the video during a chat to mark the 30th anniversary of their co-star John Pearson's website, Mr Feelgood.
A lot of fascinating information was revealed in the chat, including "naughty" on-set antics and how the video came to define an era. Read on for interview highlights in the models' own words.
Cindy Crawford
"I think this video struck a chord for many reasons. First and foremost it was the song itself and the message and declaration of 'freedom' for George himself. coincided with the 'birth' of the model and brought music and fashion together in an exciting way.
"I was disgusted that I got stuck in the tub and afterwards with a towel over my head! But you don't argue with [director] David Fincher – even then. When I look back, I think we were all presented in a way that reflected us individually.
"My favorite memory was sitting on a plane on the way to film it, listening to the song over and over on my walkman, trying to learn the lyrics. I loved the song right away and I was thrilled to be included."
Linda Evangelist
"The video captures that feeling, and that feeling is timeless. For me, the effect of appearing in the video was that I was suddenly known outside of the fashion world and in other media that didn't concern fashion. It was amazing.
"One of my favorite memories from shooting the video was George explaining to me that I had to 'lip sync' and not sing on the track. I wasn't sure what the difference was! He was so adorable. We were a bit naughty off set as the day dragged on late into the night, that's all I'll say…"
Christy Turlington
"I think the video captures everyone involved at critical times in our lives and careers that none of us could have grasped at the time, except maybe George. David Fincher had worked on other iconic videos but this was probably one of the last before his career as a filmmaker really took off. The song was an instant classic. Every time it's played in a room I'm in , I feel the eyes turn towards me.
"Linda and I were the only ones who overlapped to shoot the video because we had a scene together. In retrospect, it was quite controversial as we pricked our fingers for being blood sisters at a time when HIV/AIDS was rampant I remember George being incredibly focused and in control of everything, but also fun in times when we just have to hang out."
Naomi Campbell
"I feel like it's part of our time, of all of us, including you John. It's part of our heritage in a way, a time we can always look back on – a happy time music videos were the thing and to be in someone's music video, someone super talented like George Michael, that was a big deal!
"I remember we had the Thierry Mugler show the night before in Paris and I was the first one to shoot. The show ended at 3 a.m. so I didn't sleep because I had to take the 6am plane. There were no Eurostars at the time. in London and I was exhausted. But I was very impatient, just [relieved] that I didn't have to learn the lyrics because I knew the song."
Tatjana Patitz
"It represents an era of pop culture, and it was during the height of the early 90s, when the fashion, film and music industries mixed together. MTV was huge at the time with all the amazing music videos. I became more recognizable in a different way I think."