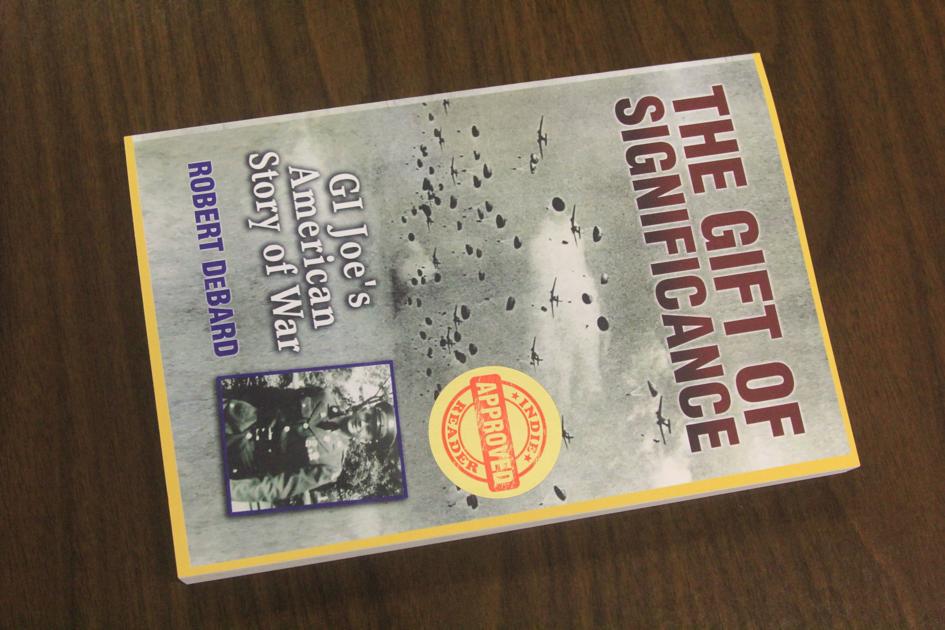 The Price of Freedom: Details of the Veterans Service book in Normandy | New
[ad_1]
Although he almost died on French soil during the Allied invasion of Normandy and had a book of other heartbreaking war experiences, Joe Bredeson had never been so scared as he was. before a talk he was scheduled to give to a group of sixth graders at Troy Middle School in 2006.
"The welcome Joe received from the sixth graders not only amazed him but amazed me," said his son-in-law Robert DeBard. The students were indifferent at first, unimpressed by the old man in the wheelchair. The theme of his presentation was "the price of freedom".
Bredeson told the students that he was offered a full tour to play football at the University of Wisconsin, but turned him down to fight in World War II. Of the 143 men in his company, only 10 returned home.
"It started with a girl who took the stage and gave him a hug," DeBard said. Then a whole row of students stood up to kiss Bredeson. It changed his life; he started speaking at events in western Ohio, and eventually DeBard, now a resident of Ninety Six, persuaded him to share his service story for a book.
This month, "The Gift of Significance: GI Joe's American Story of War" won the memoir category at the annual IndieReader Discovery Awards in New York City.
Bredeson died in 2017 at the age of 96. Before his death, he was able to read the first draft of the story he had kept to himself for over 60 years.
"I knew he was serving but I didn't know," DeBard said. "He's been very quiet about it, which is typical for this generation. "
Bredeson's son Jack said he knew maybe 20% of the story before the book was released.
"It was a bit of a shock to me," said Jack.
DeBard insists the book is not "a piece of puff, a tribute to Joe".
"He was a GI at war and what the war was like for those GIs," DeBard said. As a reconnaissance sergeant, Bredeson "faced such a harsh war experience as I think anyone could."
After Army Ranger training, Bredeson was assigned to the 101st Airborne, the "Screaming Eagles" which flew behind enemy lines on D-Day. He was parachuted into a flooded bomb crater where, carrying 70 pounds of material. , he would have drowned without a French resistance fighter who lived on a nearby farm.
The war took its toll on Bredeson and he was eventually sent to a "center of exhaustion" in Paris. What psychologists now call PTSD was then called "burnout" or "combat fatigue" and its victims were looked down upon. Bredeson himself called the exhaustion center "trash" and was deeply ashamed to have been sent there.
One day, after being judged good enough to venture outside, he went to a perfume store. Months earlier, a beautiful Frenchwoman had thrown a flower at him as American troops marched in Paris after his release. Despite a few issues – she couldn't remember him or spoke English, and her parents were fiercely opposed to dating – they eventually got married and returned to the United States.
DeBard said he was reluctant to explore certain aspects of Bredeson's war experience, particularly his time at the Exhaustion Center.
"When he was talking about the looney bin, he was almost putting it in quotes," DeBard said. "But he said, 'Bob, this is how people felt, this is the way people treated me, this is the way I treated myself. … We were the losers.
Growing up, Jack didn't realize that his father's peculiar depressive moods were PTSD.
"It constantly harassed him throughout his life, but you couldn't tell," Jack said.
Despite his reluctance, Bredeson eventually agreed to work on the book so that people who read it understood the price of freedom, DeBard said.
"While we can sit around the 75th anniversary (of D-Day) and we can applaud these former executives who were in Normandy," he said, "the point is that most avoided the service, and (Bredeson) felt like the price of freedom is the will to defend it.
When Bredeson was on his deathbed, DeBard told him that he would do everything possible to promote the book and its story. He said winning the memoir award at the IndieReader Discovery Awards "affirmed that I had done something that I said I was going to do for Joe."
Jack, meanwhile, is happy to have learned who his father really is.
"My wife and I visited the cemetery this morning, and it brought back things that I would have liked to say," said Jack. "It just makes me proud that he's my dad."
Contact Editor-in-Chief Aleks Gilbert at 864-943-5644.
[ad_2]