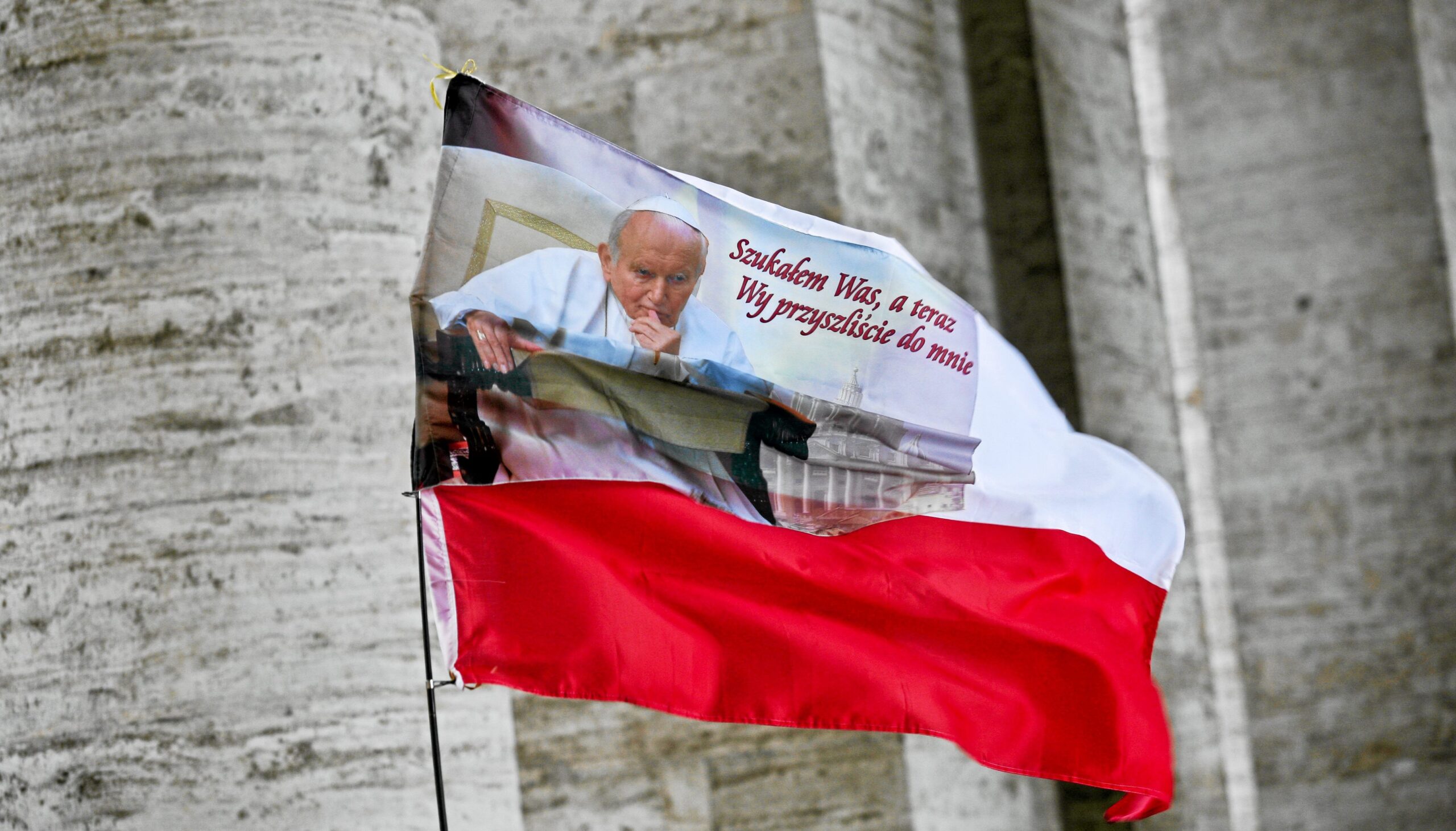 Website Launched for Reporting Defamation of Poland and Late Polish Pope
A leading conservative legal group has launched a website to encourage people to report cases of public insult against the Polish state or nation – a crime punishable by up to three years in prison – or defamation of religious figures , including the late Polish Pope John Paul II.
The NGO Ordo Iuris – which has played a leading role in campaigns against abortion and "LGBT ideology" in Poland – says its new initiative aims to "protect the values ​​that are the basis of our society ", to "stop the attacks". on our country" and to counter "Christianophobia".
Czy byli Państwo świadkami zniesławienia Polski lub Polaków w przestrzeni publicznej?

Czy słyszeli Państwo o sytuacjach zniesławienia św. Jana Pawła II bądź bł. kart. Stefana Wyszyńskiego wymagających interwencji prawnej?

Zatrzymajmy zniesławienia❗️
➡️https://t.co/2lUqvSR4yo pic.twitter.com/vuaD6AHPRt

— Ordo Iuris Institute (@OrdoIuris) February 14, 2022
"Have you witnessed defamation of Poland or Poles in a public space? Have you heard of situations of defamation of Saint John Paul II or Blessed Cardinal Stefan Wyszyński requiring judicial intervention? asked Ordo Iuris.
Those who have done so are advised to click on a new website, www.zatrzymajmyznieslawienia.pl (meaning "stop defamation"). Ordo Iuris says the service will be an "extremely important" tool for "holding defamation perpetrators accountable", offering three routes to report defamation.
The first concerns the insults against Poland and the Poles. According to Polish law, "publicly insulting the nation or the Republic of Poland" is a criminal offence, punishable by up to three years in prison.
A Protestant pastor has been found guilty of insulting the Polish nation and president (whom he called a "traitor") and of offending Catholics (whose church he called a "great great harlot")

He was cleared of calling for a war of aggression with North Korea https://t.co/10t8xNYsh8

— Notes from Poland 🇵🇱 (@notesfrompoland) June 14, 2021
Ordo Iuris notes that his experts are already analyzing "hundreds" of such cases, but says users who want to help "fight for the good name of our country" should report them to the website to prevent the incidents from getting lost "in information storm. .
As an example of his efforts, Ordo Iuris says he pursued The daily maila British newspaper, for £200,000 for an article suggesting that the Sobibór extermination camp established and run by Nazi Germany in occupied Poland was a "Polish death camp".
It also cites "anti-Polish statements" by opposition politicians, including claims by leftist MEP Sylwia Spurek about Poland's rule of law situation and human rights record.
Auschwitz survivor's son takes Germany to court over 'Polish death camps'
The second track concerns insults against Pope John Paul II, who was made a saint in 2014, and the recently beatified Cardinal Stefan Wyszyński. Besides being religious figures, both are revered for their role in resisting and overthrowing the Polish communist regime.
"The last few years have been full of disgusting attacks on the two spiritual fathers of Polish independence and freedom," says Ordo Iuris. She asks that incidents of "defamation" and "destruction of places of memory" dedicated to religious figures be reported to her lawyers.
Finally, the organization also seeks to tackle "cases of Christianophobia" by providing an "institutionalized weapon in the defense of religious freedom in Poland". She asks those who have been victims of hatred or discrimination because of their religion to write to them.
Polish IKEA director who fired employee for homophobia acquitted of religious discrimination
Among Poland's wide range of defamation and insult laws, "offending religious sentiment" is a criminal offence, punishable by up to two years in prison. Recent years have seen an increase in the number of blasphemy cases brought in Poland under the current National-Conservative government.
The Ministry of Education recently helped launch a new academic center devoted to "combating Christianophobia" and "spreading knowledge about the persecution of Christians".
Ordo Iuris has himself gained influence under the current government. Its "Charter of Family Rights" has been adopted by many local authorities, and the organization's founder, Aleksander Stępkowski, served as deputy minister before being appointed as a Supreme Court justice in 2019.
Poland launches state-funded research center to 'counter Christianophobia'
Ordo Iuris has also played a leading role in campaigns to restrict access to abortion (with a near-total ban coming into effect last year) and to pull Poland out of a European violence convention. domesticated.
The organization has been the subject of much controversy, particularly over its international ties and sources of funding.
VSquare, an investigative journalism group, describes Ordo Iuris as part of an "international network of ultra-conservative organizations" aimed at "eradicating liberal values, toughening the law, changing the language of debate, filling positions keys and strengthen political influence".
"Not only do they have the money to do whatever they want, but they have access to all the key institutions and media…"

Focus on Ordo Iuris, the NGO that played a major role in the recent conservative blitzkrieg in Poland:https://t.co/HFgPlRb5r9

— Report Democracy (@Rept_Democracy) June 22, 2021
Main image credit: ADAM GOLEC / Agencja Wyborcza.pl
Maria Wilczek is deputy editor of Notes from Poland. She is a regular writer for The temperature, The Economist and Al Jazeera Englishand also featured in Foreign Police, European policy, The spectator and Gazeta Wyborcza.